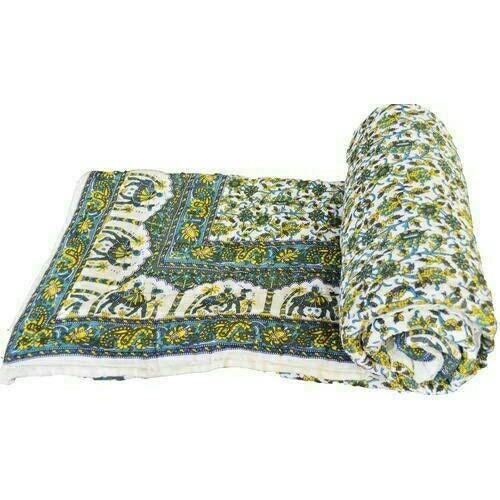 Rajasthan is located in northwestern India and encompasses the Aravalli Mountain Range and the Thar (Great Indian) Desert. Throughout Rajasthan, the topography is unfriendly and the weather can get bitterly cold, especially at night. Shepherds, traders, militaries and warriors, and other people who usually travel by camel caravan need a warm covering. It should keep them warm in the cold desert nights and yet be easy to carry. So, the artisans by necessity created a cover, Jaipuri Quilt in Jodhpur that was as long-wearing and convenient to carry as it was warm and comfortable to use.

Difference between normal quilts and Jaipuri quilts from Rajasthan

There's a massive difference between Jaipuri quilts and normal quilts:

Jaipuri Razai (quilt) is one of the most well-known things of Jodhpur, Rajasthan due to its traditional art and process of manufacturing.

Jaipuri Quilt in Jodhpur is printed by the method of Screen printing or block printing both handmade method carried out by the native artisans of Jaipur, Sanganer and Bagru.

What makes Jaipuri Razai Quilt unique are the beautiful and the art prints which comprises designs of
• Mughal Boots,
• Motifs,
• Flowers and elephants,
• bails etc.

Some interesting facts-
• All of them show the history and culture of years old traditions.
• A Jaipuri quilt is not just unique for its artisanship but useful for its functionality too.
• The most significant difference between Jaipuri quilts and common quilts is the method it's made and stitched. Jaipuri Razai is complete hand-stitched in Jodhpur and weaved closely. This hand-stitching is very durable and it does not allow the body heat to leak.
• Jaipuri Quilts are prepared of a very less and special type of cotton spread across the quilt and stitched together. The Jaipuri Razai is well-known by the name 600gm or 100gm Jaipuri quilt in Jodhpur and all other parts of India. Therefore, making Jaipuri Quilt or Razai is a distinguished art form. The artisans make the Jaipuri Razai lightweight, breathable and comfy.

Creation of Wholesale Jaipuri Quilt in Rajasthan
A typical Jaipuri Razai starts with a kilogram (2.2 pounds) of cotton. The fleecier and lighter the cotton fills, the cosier and warmer the quilts will be. The covering of the quilt is typically high-grade soft cotton voile, a lightweight, thin cotton fabric with a soft and smooth surface. The softness of the voile enhances the finish and feels of quilts as very snuggly and cosy. Sometimes the quilter uses velvet covering instead of cotton voile.

After being filled, the quilt is stitched together. However, now the quilt-makers use a sewing machine to stitch instead of hand needle the sides of the quilt together which upsurges the durability of the quilt. Then they do a running stitch on the interior of the quilt panes to hold the filling in place and add to the attractiveness of the quilt.

Where to buy authentic quality?

Approach a leading Jaipuri Quilt Supplier in Jodhpur who is capable of
• Sourcing and trading of Jaipuri quilts across the nation
• Maintain year-round product availability
• Provide products in small and massive quantities as well
• Possess a wide distribution network of dealers and suppliers
• Deliver products within said time
• Offer benefits of streamlined trade operations
This entry was posted on May, 12, 2020 at 19 : 29 pm and is filed under Jaipuri Quilt. You can follow any responses to this entry through the RSS 2.0 feed. You can leave a response from your own site.