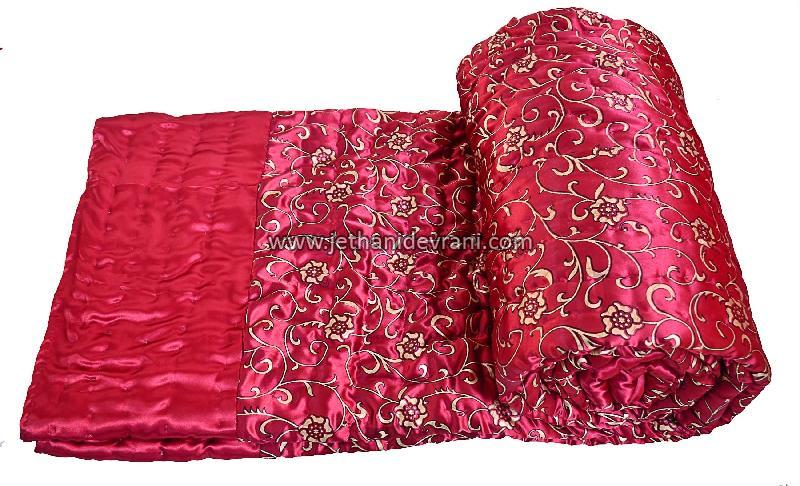 Who does not want a warm and soft bed covering for their bed comfort? In different parts of the globe, people have different approaches to fulfill their needs. In Europe, people use big sized cotton quilts for their comfort. In America, people favor using tight blankets. Similarly, In India, Jaipuri quilt in Jodhpur, Rajasthan is the popular choice among people living here. The speciality of this razai is it is light in weight and warm and cozy.
More about Jaipuri Quilt:
Jaipuri quilt is not only famous in Jaipur or Rajasthan but it is warmly accepted in the minds of most of the Indians. Apart from its functionality, the artistic look of this quilt is sure to impress everyone. These are handmade and reflect the cotton carding, textile making, voile making and quilting skills of the artisans. Jaipuri quilt is soft as well as delicate too.
So, you can see that as the quilts are soft, delicate, they are very comfortable too to get covered with. Durability is another characteristic that made this razai immensely popular. The history and geographical position of Rajasthan have always forced its residents to find something for surviving the long cold nights here. Hence, the Jaipuri quilt suppliers in Rajasthan are mushrooming at a great pace.
How is it made?
The razai-makers started using the carding process to prepare Jaipuri quilts. In this method, razai-makers prepare the cotton first to fill inside the quilt. For this, they need a pair of carders. Carders are generally paddles that are convex-shaped and have tiny teeth. Workers run the carders to prepare the cotton-filling.
Now, when the razai-makers finish the process, cotton debris appears on the space. If you pick the dross for removal, you can see those are nothing but the delicate and soft pure cotton fibers. The whole process of carding takes a week's time and the gross amounts a little. For example – if 2.2 pounds of cotton is carded only 100 grams of gross comes out.
The functionality of Jaipuri Quilt:
• Whether you are looking for purchasing a single or double bed quilt, you can get it from any of the reputed suppliers of wholesale of Jaipuri quilt in Rajasthan. These exclusive pieces of razai are fit to fulfill the needs of everyone.
• These do a great job of keeping the body warm. Rajasthani people find it extremely suitable to serve their needs i.e. to survive in their desert climate.
• These make a good comforting too. While you are sitting on a chair or lying on the bed, you can make a roll of the razai and put it behind for keeping your back at rest. Lying on it, you will not feel any kind of pain in your body parts.
• You can carry it during your travel too. As it is lightweight, you can easily carry it anywhere.
Get Jaipuri quilt in Jodhpur to avail of some good discounts from the dealers and suppliers. Buy a couple of razais for your family members and experience the tradition of Rajasthani culture with pride as well.